Interactivity
This document describes the features that enable interaction between the Choropleth Map and other dashboard items. These features include Master Filtering.
Master Filtering
The Dashboard allows you to use any data aware dashboard item as a filter for other dashboard items (Master Filter). To learn more about filtering concepts common to all dashboard items, see the Master Filtering topic.
When Master Filtering is enabled, you can click a shape (or multiple shapes by holding down the CTRL key) to make other dashboard items only display data related to the selected shape(s).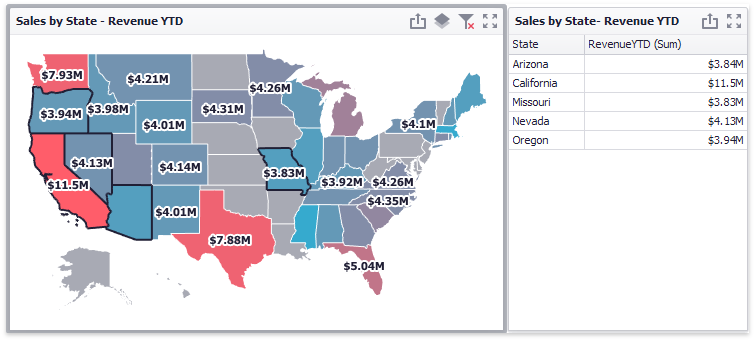 You can also select multiple shapes in the following way.
Hold the SHIFT key and the left mouse button;
Drag the mouse pointer to mark an area that includes the desired shapes;
Release the left mouse button. All shapes within the area will be selected.
To reset filtering, use the Clear Master Filter button (the

icon) in the Map's caption, or the Clear Master Filter command in the context menu.