Save a Document
To save a document, go to the File tab, and then click the Save as button in the Common group; or press CTRL+S.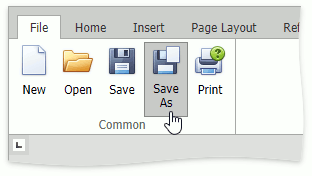 After that, the Save as dialog box is invoked.
Specify whether the file should be saved to the server or downloaded as a copy. Then, specify the folder path, file name and the file format in which to save the document.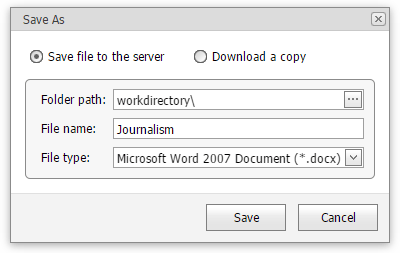 The Rich Edit control allows you to save documents in the following formats:
Rich Text Format (*.rtf)
Text Files format (*.txt)
Hyper Text Markup Language format (*.htm, *.html)
Web page archive format (*.mht)
Microsoft Word 97-2003 format (*.doc)
WordML (*.xml)
Open Office XML format (aka Office 2007 or *.docx)
Open Document Format (*.odt)
Electronic Publication (*.epub)
To save the active document with its current file format and location, go to the File tab, and then click the Save button in the Common group. If you click the Save button to save a newly created document, the Save as dialog is invoked.
Note
When saving a document in HTML format, in-line pictures are saved in the %FileName%_files folder, where %FileName% is the name of the document file. Image files are named "imageN.png", where N is the picture index starting from the beginning of the document.